Current Seasonal Events and Local Fundraisers:
Schedule for cruise and events/ live music afterwards:
CRUISE IN DOWNTOWN ELKIN
-
Events are scheduled on the 4th Saturday of each month, from 4pm to 8pm.
In September, the Cruise in will be held the 3rd FRIDAY, one week before the Pumpkin Festival, on Friday, September 14th.

_____________________________________________________
Historic Elkin Ghost tours are scheduled after the cruises at Diana's Books and More, and the Reeves Theater offers live music performance every Saturday night that begin at 8pm! Get your tickets in advance or at the door. Additional tours are scheduled in October.
Saturday, May 26 from 8:30 pm - 11:00 pm, 126 W.. Main St., Elkin Ghost walking tours offering exclusive access to many of the most infamous and haunted sites, grave yards and back alleys within Elkin's Haunted Historic District. Call 336-835-3142
Packages:
Package 1 - $8.00 - Tour and Choice of Beverage from Coffee Shop
Package 2 - $10.00 - Tour, Choice of Beverage from Coffee Shop, and Souvenir Lantern
August 3 & 4, The Reevestock Festival offers 2 days of fantastic music in 3 locations around Elkin. Get your tickets in advance at:
Last weekend in July!
In Elkin, this is along Bridge St during the last weekend in July, Friday thru Sunday. Pick up your signs at the Elkin Town Hall if you want to participate in the 100+ mile yard sale! No fees to set up your yard sale that weekend from the Town of Elkin. Be sure to get permission from any property owner before you set up. Free booth locations will be at Elkin Antiques and Collectibles Mall near the RR tracks in downtown Elkin.
If you are interested in adding your name to the Explore Elkin update emails, please send your contact information to exploreelkin@gmail.com.
Upcoming Explore Elkin events:
FOOD TRUCK FRIDAY: Next event August 10th (no food truck Friday in July)
Join us for Food Trucks, Live Music, local wine and craft beer at the Elkin Farmers Market on the 2nd Friday of every month(excluding July)!
Food Trucks 11:00 a.m. - 8:00 p.m.
Live Music, Wine & Beer 5:30 p.m. - 8:00 p.m.
To drink wine and beer, you will need an Explore Elkin reusable cup. Feel free to re-use your cups from last year, or they are available for purchase for $5 at the ID Check Station under the Farmer's Market shelter.
_____________________________________
DOWNTOWN BLOCK PARTY: July 14th
Enjoy summertime in Downtown Elkin with
Explore Elkin
.
Listen to live music and sip on some Skull Camp Brewing wines and beers. Find us on West Main Street.
_____________________________________
Open Mic Night
Every Tuesday evening, 7 p.m. - 10:00 p.m.
Sign-up and slot assignment @ 6:30; Show @ 7:00 Ever wondered what you or your band would sound like on stage at the Reeves? Every Tuesday, you'll have your chance to find out. Open Mic Night. All genres and styles welcome. Simple set-ups please!
There are ten 15-minute slots per night. FREE to play, FREE to listen. The REEVES CAFE serves food till 7:30 pm.
EVERY TUESDAY IS OPEN MIC NIGHT FOR ANY BAND TO PLAY ON STAGE! Starts at 6:30 pm. 15 minute increments.
JUL 6 MOVIE NIGHT! Reels at the Reeves: Dirty Dancing 5:30pm and 8:00pm
JUL 7 Martha Bassett Show: Missy Raines & The New Hip Sat 8 PM
JUL 13 Goodfellers Fri 8 PM
JUL 14 Michael Bennett & the "B" String Allstars Sat 8 PM ·
JUL 20 David Holt & Josh Goforth Fri 8 PM
JUL 21 Daniel Justin Smith w/Ben James Sat 8 PM
JUL 27 Seth Walker w/ the Reeves House Band Fri 8 PM
JUL 28 Memphis Thunder featuring Taylor Vaden Sat 8 PM
4th of July Celebration - Elkin Municipal Park
June 30th - Jaycees Freedom Fest at Elkin Park starts at 4PM
YOGA ON MAIN
JUL 5 & 19 – Gentle Yoga with Kym 6:30pm
JUL 7 - FUNdamentals of Acro Yoga Sat 2 PM
JUL 9, 16, 23, 30 - Boot Camp 4:30 pm
JUL 12 & 19 - Kids Summer Yoga 4 pm
JUL 14 - Emotions of the heart. How you can heal your heart Sat 10 AM
JUL 15 - Mommy and Me 2 pm and 3:30 pm
JUL 3, 10, 17, 24, 31 - Morning Yoga for beginners 8:30 am.
JUL 21 - Yoga Nidra Workshop Sat 10 AM
Thru Dec 1 - 1st Saturdays of the month - Beginner Mindfulness Meditation at 10:00 am with Denise Lyon
THE NOVEMBER ROOM
· Offers lots of fun classes, shopping, and coffee and wine drinks, plus plenty of seating. Check below for a list of upcoming arts and craft classes:
CLICK HERE FOR UPCOMING EVENTS!
· JUL 10 & 17 - Tuesday, Tour of Europe paint classes
· JUL 24 - Ballerina mixed media paint class for girls
· JUL 31 - Painting wine bottle craft
Prices vary; classes start at 6pm and you must RSVP so we have enough supplies!
THE FOOTHILLS THEATER (community theater/plays)
Why are the fairytale creatures being banished from Duloc? What quest are Donkey and Shrek on? Does Fiona get rescued from the tower? Does Lord Farquaad get his queen?
Come learn all the answers to these questions.
Flower bouqets from Duloc Florist available to purchase for your favorite cast member.
Photo opportunities also available.
Tickets available at the door, DIXON AUDITORIUM
$12 (teens and adults) and $8 (kids 12 and younger)
THE FOOTHILLS ARTS COUNCIL
FAC CLASSES:

Call 336-835-2025 to make an appointment:
Music: Teacher Cory Myers offers guitar lessons on Thursdays for all ages. $15/half hour or $30/hour
Music: Keary Reid offers piano lessons (ages 5 to adult) on Wednesdays. $20/ half hour.
Kids AFTER SCHOOL ART LESSONS:
Offered during Elkin City School sessions Sept-May
Kidsfest

Saturday, July 7, 11 am - 2 pm, FREE!
Foothills Arts Council Garden
FREE Admission
An annual event for kids and kids at heart featuring art activities, food, snow-cones, a steel-drum band, and a waterslide!
__________________
KIDS SUMMER ART CAMP July 16-19 $60.
Rising first and second graders 9-11am
Rising third thru fifth graders 1-3 pm
Rising sixth grade and up 4-6 pm.
_________________
Reevestock Music Festival
August 3rd & 4th, 2018
Taking place at The Reeves Theater & Elkin's Hidden Amphitheater
"Reevestock is a music festival located in the heart of Elkin, North Carolina. Started in 2011 by folk-rock band, Time Sawyer, Reevestock brings national touring acts in for a great weekend of music. Reevestock is a benefit festival donating festival earnings to the Reevestock Scholarship Fund which is made available to some of our local area high schools for their seniors looking to continue their education at any 2-year program, 4-year program, or technical school. The festival plans to add more schools as the yield allows.
Reevestock offers something for everyone in the family and looks to benefit the community in every way possible. Great music for all ages, food and drinks made available by your favorite restaurants, and even activities for the kids. Music helps to bring us all together and that's what Reevestock is all about. We hope to see you all the first weekend in August for some great music and fun!"
THE ELKIN VALLEY FIDDLERS annual event:
Sunday June 24th, starting at 11 am:
Grand Opening and Brewery Anniversary Celebration

Sunday, June 24th – 11am-11pm
Ribbon Cutting – Live Music – Giveaways – Yard Games
Face Painting for the Kids from 2-4pm

We are so pleased to announce that the Skull Camp Smokehouse is officially OPEN! Come out for fun day to celebrate the new restaurant, and the 6th Anniversary of Skull Camp Brewing. Check back soon, more details to come.
Family Friendly, Bring the Crew! – Dog Friendly Patio

Skull Camp Brewing has a tasting room in North Elkin which is open in the new facility (behind the main building facing N Bridge St). The main building will soon open as a smokehouse restaurant. The tasting rooms hours are open Friday - Sunday.
ANGRY TROLL BREWING at 222
Angry Troll's
tasting room is in the basement of The Liberty in historic downtown Elkin, and has merged with 222 Public House. The new name is Angry Troll Brewing at 222. The tasting room is only open Friday thru Sunday, but you can get their beer on tap in the restaurant which is open Thurs-Mon. Closed Tues/Wed all day and closed Thurs for lunch.
EVENTS:
July 1 – Starting at 2pm, Taproom Trivia in the basement Troll Den on Sundays (NOW OPEN SUNDAY!);
July 13 - Every 2nd Friday of each month, Poses and Pints happens at the Angry Troll, in the basement or outdoor patio. Everyone is welcome, Friday, July 13th at 6pm, and includes a beer after all your hard work!
BIG ELKIN BREWFEST - October 27, 2018
Craft breweries from around NC, set up at the Elkin municipal park, with live music, food and fun. The Big Elkin Brewfest is now scheduled the 4th Saturday in October each year.
Event Name: Big Elkin Brewfest
Description: Enjoy live music, vendors and lots of delicious craft breweries at our municipal park. It's a great place for friends to enjoy the day! Date: October 27th, Saturday afternoon... time TBALocation: Elkin's Municipal ParkWebsite:
https://www.bigelkinbrewfest.com/
Wineries & Vineyards
offering 6 tasting rooms in Elkin!
Elkin hosts the annual Yadkin Valley Wine Festival, held the 3rd Saturday in May. The festival is located at the Elkin Municipal Park, 2 blocks from historic downtown Elkin. Learn more at
yvwf.com
.
SAVE THE DATE! May 19, 2018! Get tickets early and save $!
Events at Adagio Vineyards:
Upcoming activities at Adagio!
TBA
Sundays at the Tasting Room-Elkin Creek Vineyard offers homemade, wood-fire pizzas! A delicious pizza in beautiful surroundings...sounds like a new Sunday tradition in the making! Be sure to place your orders for pizza at least a day advance if possible, as dough in made fresh each weekend.
Wood-fire Pizzas - EVERY Sunday
Date: Every Sunday
Time: 11:00 AM - 5:00 PM
Phone: 336-526-5119
The Place: Elkin Creek Vineyard Address: 318 Elkin Creek Mill Road, Elkin
Join us for our wood-fire brick oven pizzas. EVERY SUNDAY except September 9th. Call us to reserve your dough!
4th Sunday LIVE Music — 2-5 pm
We will be having live music in our tasting room every 4th Sunday through September. Mark your calendar for these dates!

Wine available for purchase by the glass or bottle​. Bring a picnic and enjoy!
Open Saturdays and Sundays, or call ahead on weekdays and they will open for your visit if available.
Burch Station Bluegrass Jam Sessions: Come join in with your instrument or sit back and enjoy listening/dancing to wonderful traditional, old timey bluegrass and original music. No cover charge. Snacks, coffee available at no charge. Wine tastings, wine by the glass/bottle available for sale. 336-366-3301
Music schedule for 2018:
Every 1st

Saturday

(except May) - Celtic Jam -

2-5 pm
Every 3rd

Saturday

(except May) - Bluegrass Jam Session -

2-5pm
Bring your instruments and join in or just come to sit back and listen. Outside (weather permitting) – bring lawn chairs and lunch to enjoy with your wine, if you'd like! No cover charge. Coffee and snacks available at no charge. Wine tastings, glasses/bottles of wine available for sale.
ROUND PEAK VINEYARD
Head to Skull Camp Brewing at 1980 N North Bridge Street in Elkin where you'll find the Round Peak Vineyard tasting room in the upper level of the Skull Camp restaurant. Wine tasting room open Fri-Sat noon to 5pm.
Roaring River Vineyard (near Stone Mountain)
Fairfield Inn (in Elkin, off of I-77 and CC Camp Road exit 85)
Offers free wine tastings with featured Yadkin Valley Wineries in the summer: Friday nights from 6pm to 8pm. The public is invited!
Year-Round Outdoor Entertainment
Watch for this ANNUAL Habitat Golf Tournament sponsored by Rotary in May, at Cedarbrook Country Club. For over 20 years the Yadkin Valley and Yadkinville Rotary Clubs have sponsored this event raising over $260,000 for Habitat homebuilding in our community. Join us for golf, awards, door prizes, lunch as you swing a club -- instead of a hammer -- for Habitat! For more information, call 336-526-2277 or email habitat@uyvhabitat.org.
FRIENDSHIP MOTOR SPEEDWAY
If you love car racing, this is a great place to watch all types of dirt racing. To learn more visit their facebook page and website for racing schedules.
LIVE MUSIC: Check below under Wineries, Restaurants, or Festivals for updates on live music in Elkin!
Town of Elkin sponsored events and updates:
Town of Elkin (municipal) Calendar:
Public Works:
Public Works Main line is 336-794-6480
Town Hall Meetings:
The next Board of Commissioners meeting; Town Hall will be Monday, August 13, at 6 pm.

Main Street Advisory Board meeting, at the Chamber of Commerce, Tuesday, July 17, 9:00 am. Learn more at

http://www.elkinnc.org/departments/main_street/index.php

Rec & Parks Advisory Board meets at the Town Hall, Thursday, July 19 at 6 pm. Board room.

TOE Planning Board meeting, Monday, July 30 at 6 pm. Board room.

Town Hall contact number is 336-794-6464
Coffee with the Mayor, Sam Bishop, is scheduled every third Thursday of the month, 9am at Dirty Joe's on West Market St. See you there!
RECREATION & PARKS DEPT:
New! Link for the Trails for Kids at the Municipal Park is www.kidsinparks.com/trails/nc/town-of-elkin
For a listing of classes or sports events offered at the Rec Center, click here. or call 336-794-6478
ELKIN POLICE DEPT:
... offers 24/7 drop off for unused prescription drugs. Please do not flush these down your toilet. Keep our water and rivers clean! Non-emergency number for the police dept. is 336-794-6475.
ELKIN PUBLIC SCHOOLS:
For a view of Elkin City School's event calendar (includes Elementary, Middle and High School) go to
ELKIN'S NWRL PUBLIC LIBRARY
835-5586 or for events, check http://nwrl.org/
For more upcoming events click on button below:
ELKIN FARMERS MARKET
(Open mid-April to end of November)
OPEN every Saturday, 9 am to noon. Season is from mid-April thru the end of November.
Enjoy live, traditional music every Saturday morning at Elkin's Farmers Market. Bluegrass, blues and country-themed music as well as instrumental music using fiddles, harps, guitars, and even flutes is also featured from time to time. Hours of market are 9am to noon, every Saturday from mid-April through November.
Hike, Bike and Paddle Elkin
& 5K Walk / Run Events
Three Great Paddles on the Yadkin
Ronda to Elkin

– Enjoy a leisurely 7 mile float (3 to 4 hours) on the Yadkin River with take out in downtown Elkin.

Elkin to Burch Station

– Enjoy a 6.5 mile float (3 hours) on the Yadkin River. Combine with the Ronda to Elkin float for a 13.5 mile (6 hour) float.

Burch Station to Rockford

– Enjoy a 12 mile float (6 hours) on the Yadkin River. Start at Elkin for a full day, 18.5 mile float.
Paddle shuttle and outfitter services:
Hometown River Company
474 North Bridge Street
Jonesville, NC 28642
336.404.1616 (Cassius & Amanda)
hometownrivercompany.com
hometownrivercompany@gmail.com
Jonesville Kayak & Tube Rental
1917 NC Highway 67
Jonesville, NC 28642
336.999.0017
67riverrentals.com
NC River Riders
210 Big Bend Road
Ronda, NC 28670
northcarolinariverriders.com
336.244.6220 (Tim Main)
Roaring River Canoe & Kayak
462 Cotton Mill Road
Roaring River, NC 28669
336.957.6147 (John Alexander)
roaringrivercanoe.com
jealexander462@embarqmail.com
Rocky Forest River Run
172 Rocky Forest Trail
Elkin, NC 28621
336.835.3890 (leave message)
336.469.8651 (Mark Combs)
336.469.8652 (Cindy Combs)
rockyforestriverrun.com
info@rockyforestriverrun.com
Yadkin River Adventures
104 Old Rockford Road
Dobson, NC 27017
336.374.5318 (Paul Carter)
yadkinriveradventures.com
info@yadkinriveradventures.com
Yadkin Riverkeeper Tours in Elkin
DOWNTOWN HIKING:
Overmountain Victory Trail: Stretching 330 miles through four states (Virginia, Tennessee, North and South Carolina) the Overmountain Victory National Historic Trail traces the route used by patriot militia during the pivotal Kings Mountain campaign of 1780. 2 miles of trail are accessible in Elkin. This trail begins at Elkin Municipal Park and currently runs west along the Yadkin River.
Downtown Elkin Stroll: Pick up map and directions at the Town Hall or Click here for walking tour highlights PDF
Self-Guided Excursions
HIKING ON THE MST:
Self-Guided 4-Mile Wells Knob Hike: Take 21 North out of Elkin for 11 miles and turn left on Traphill Road. Go .1 mile and turn left on Roaring Gap Church Road. Go 1¾ miles and turn left on Roaring Gap Road. Go ½ mile and turn right at Wits End Eventing drive. Start of the trail is 700 feet on right. Take the marked trail to top of knob (2 miles) for beautiful views of the valley below and Blue Ridge Mountains. The trip back is downhill and not as strenuous. CLICK HERE TO DOWNLOAD MAP.
Self-Guided 2-Mile Elkin Hike: From the Elkin Recreation Center follow the granite dust trail north (upstream) along Elkin Creek on the Elkin and Alleghany Rail Road bed. Enjoy the nature and historical signs and pause at the "Shoe Factory Dam." Cross a 140-foot bridge and continue ½ mile and cross a second 180 foot bridge to the reservoir and return. Make sure you ring the gong at least once for luck! CLICK HERE TO DOWNLOAD DIRECTIONS and MAP.
Self-Guided 3-Mile Hike at Grassy Creek Trail: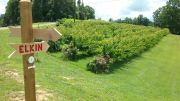 After sampling wine at the Grassy Creek Vineyard tasting room, follow the marked trail ½ mile across the creek and up to the top of the ridge where you join the MST. Go right on the MST toward Byrd's Branch Campground. Once there enjoy some ice cream and return. CLICK HERE FOR DIRECTIONS and MAP.
Self-Guided Stone Mountain State Park Hikes: We recommend that you contact Stone Mountain Park at 336-957-8185 for the most up to date closures and stop at the Visitor Center when you enter to park. Enjoy the highlights of Stone Mountain State Park, the Hutchison Homestead, Wolf Rock and the MST. While some trails are closed, there is plenty to see and do at Stone Mountain.
Throwing Shades! Color Fun Run
Saturday, June 2
8:00 a.m. - 11:00 a.m.
Elkin Municipal Park
399 NC Hwy 268 W., Elkin
The throwing shades color run is a new and exciting event being hosted right here in Elkin, NC! Its family friendly, fun for all ages that also gives you an opportunity to get connected to helping out children in the local community. We will spend a color filled morning building up our community through fun and adventure. Want to be at Elkin's first color run? Want to get plugged into your community?
Show us your true colors and join our team!!
More info here: https://prism-medical.com/throwing-shades-5k-main-page
Online Registration Ends May 18th
Habitat Hammer 5K is held every April at the Elkin Municipal Park:
2018 Habitat Hammer 5k/10k, Saturday, April 14. Run or walk the rolling streets and trails of beautiful Elkin in the heart of the Yadkin Valley! Now in its 8th year, the Habitat Hammer offers a great race, awards, door prizes, food, music, kids' games and more. Proceeds support Habitat homebuilding in our community. Registration forms are available at the Elkin Rec Center and online at https://www.active.com/elkin-nc/running/distance-running-races/habitat-hammer-10k-and-5k-2018?int=
Annual Foothills 5K Wet Run
In the heart of the NC foothills, we finally bring you a mixed terrain 5k only Elkin could offer, usually scheduled in early summer.
Benefiting clean water projects in 3rd world countries, the Foothills 5k is one fun race doing a lot of good. Bring your family and experience a race worth running for a great cause: Life!
Location is at ELKIN MUNICIPAL PARK.
EVTA 5th Annual Insane Terrain 5k starts at the Elkin Municipal Park and takes advantage of new trails and bridges along the Big Elkin Creek. Enjoy the beautiful scenery including waterfalls, mountain terrain, wildflowers and the fall colors. All runners, hikers, walkers are welcome! Great awards and cash prizes!
Cycling events:
Yadkin Valley Tour de Vino, May 19th, 2018 http://yvtdv.com/
Cycle your choice of routes along gorgeous Surry County countryside... Participants get free admission to the YV Wine Festival held later that day!
There Are 5 Different Routes......

30, 31, 50, 71 and 100 Miles!

Join in the Fun!

With five great and sometimes challenging rides, there is something for everyone. The rides are a 30, 31, 50, 71 or 100 mile scenic ride into parts of Surry, Wilkes, Yadkin and even a touch of Alleghany counties of North Carolina. The ride gets its name for passing several vineyards and wineries in the Yadkin Valley wine region. Then return to Elkin where showers and a post ride meal are waiting for you, and one of the finest wine festivals is going on at the park next to the return area. The Yadkin Valley Wine Festival. (www.yvwf.com). Entry to the ride gets you a free tasting ticket to the festival. All proceeds go to the Elkin Valley Trails Association (www.elkinvalleytrails.org).
Mountain Biking
Ride Elkin's new mountain bike park
Bring your bike and helmet and ride during daylight hours. Start at the Elkin Rec Center, and head north along the MST.
Access the trail at Elkin's Municipal park, from the Elkin Rec Center parking lot. Head on the new trail towards the first bridge (over the creek). Access for bikes will be on the right, before you cross the bridge. If is says closed, please continue on the trail to the end, where you will see an TRAIL OPEN sign. Route is a one-way path for cyclists, so it is important to look for the "OPEN" sign to start your ride.
Pedestrians, if you choose to walk on the mountain bike path, please travel in opposite direction along the bike path so you see the cyclists coming and you can get out of their way. You would enter at the "Closed" entrance.
Road Cycling
Four Beautiful Bike Rides in the Heart of the Yadkin Valley Wine country
31 Mile Loop

– south through Swan Creek area vineyards with rolling terrain and a few strenuous hills.

50 Mile Loop

– north through Mountain Park area vineyards with rolling terrain and numerous strenuous hills and one mountain.

71 Mile Loop

– east and north of Elkin passing numerous vineyards, rolling terrain with a number of strenuous hills.

100 Mile Loop

– north, south and east with rolling terrain and numerous strenuous hills. 7,000 feet of climbing.
Click here for details, cue sheets and maps of each ride.
Surry County offers a Scenic Bikeway you can access from Elkin.
Indoor Exercise and Wellness Classes
Soul Compass Center Journey Camp is for ages K- 8th grade.
Elkin Municipal Park offers summer camp for ages K - 7th grade.
FOOTHILLS ARTS COUNCIL FOR KIDS!
Summer Art Camp July 16-19 $60.
Rising first and second graders 9-11am
Rising third thru fifth graders 1-3 pm
Rising sixth grade and up 4-6 pm.
Kidsfest Saturday, July 7, 11-2 pm $FREE (Theme not yet confirmed but it's looking like Treasure Hunt)
Fe Fi Fo Fum, Drama Camp & Theatre June 11-26, 9am-noon Foothills Arts Council $150 Performances June 29-30 Elkin Dixon Auditorium.
There's also likely a summer kids sewing camp, weaving camp, and bookmaking camp but all the details aren't pulled together to confirm the dates for those yet.
The ladies at the Clayworks are working out a program so we can offer paint-your-own pottery classes at the FAC but since they have to first make all the pottery, it may take a while to organize!
I'll keep you posted as the other new workshops are confirmed. - Dan Butner
Angry Troll Brewing at Two-Twenty-Two
222 Public House and Angry Troll Brewing have combined forces and are now a restaurant/bar/brewpub (main level) and brewery tasting room (lower level with limited hours). Join our Monday lunch club were every 10th Monday lunch is free. Tasting room below is open Fridays 5-8pm and Saturdays 12-8pm.
Southern on Main
Open for lunch, dinner and Sunday Brunch.
Some nights offer live music or karaoke during warm weather.
WEEKEND EVENTS:
Friday, May 4: Live Music by Don Vallarta from 6pm-9pm
Saturday, May 5: Cinco De Mayo Celebration. Join us for tacos and margaritas.
Friday, May 11 and Saturday, May 12: Sushi Night. Check out our Facebook page or give us a call for menu updates.
Friday, May 18: Live music by Don Vallarta from 6pm-9pm.
Friday, May 18 and Saturday, May 19: 4 Course Dinner Menu for $40. Regular menu still available. Check out our Facebook page or give us a call for menu updates.
Friday, May 25 and Saturday, May 26: Prime Rib Night.
TUESDAY EVENTS:
Tuesday, May 8: Tini Tuesday. Join us for $5 specialty martinis.
Tuesday, May 15: $8 Flatbread Night.
Tuesday, May 22: Southwest Night. Join us for southwestern inspired food specials.
Tuesday, May 29: $1 Off Draft Beer.
WEDNESDAY EVENTS:
Every Wednesday is 1/2 price wine bottles.
Wed. May 9 and Wed. May 23: Live Music by Don Vallarta from 6pm-9pm.
THURSDAY EVENTS:
Thursday May 3, May 17, and May 31: Build Your Own Burger Night for $8, add a side of fries for $2. **Ground Beef, Chicken, and Black Eyed Pea Patties are available!
Thursday May 10 & May 24: Wing Night!
Our Place is located upstairs, above Southern on Main and is a martini and wine bar, with a full bar. Scenic views of Main Street are there and a cozy, cool atmosphere, too! Open seasonally.
Music Line Up this week at Fiddles:
Live music some Wednesdays.

Live music with various bands every Friday and Saturday night.

We're rockin'! Come join the party:
Music is usually 7 pm to 10pm
JUL 6 – Maggie Lowe
JUL 7 – Jack Marion
JUL 13 – Bigdumbhick
JUL 14 – Chad Bernard
JUL 20 – Joe's Cousin
JUL 21 – Libby Haynes
JUL 27 – John Elliott
JUL 28 - Larry Wishon
Roxxi and Lulu's Bistro and Bakery
TBA
Harry's Place
TBA

DODGE CITY ROYALL'S
No event scheduled at this time. Karaoke in the bar area some evenings.
MAZZINI'S ITALIAN RESTAURANT
Mazzini's offers fund raisers for local businesses on the 3rd Thursday of each month. Open lunch and dinner, no beer or wine available.
LA FUENTE MEXICAN RESTAURANT
Every Thursday is Thirsty Thursdays...Small draft beer $1.50, Small Margarita $3.25, Med $5.25, or Blue Margarita $5.00.
Cedarbrook Grille at CEDARBROOK COUNTRY CLUB (10 min from downtown Elkin)
Friday nights: Come to the country club for dinners Friday nights. Everyone welcome. Steaks, chicken and seafood entrees, full bar, cozy seating.
Sundays, Lunch Buffet 11:30-2:00pm. $9.99 Adults, Discounts for Seniors and Children, plus children 5 and under are free. Call for reservations 825-2320, Option 2. Make reservations for Valentines Day, Easter, Mother's Day, Father's Day, Thanksgiving, etc.